Topical Talks
Organiser: Daphne Berkovi
Topical Talks are normally held every month on a Thursday between 3 pm and 4.30 pm at Alyth. Tea, coffee and biscuits are available at a donation of £1 from 3 pm, and the talk begins around 3.20 pm. Non-members are welcome to attend a single talk, but if you would like to attend subsequent talks, you must become a member of HGS U3A.
Topical Talk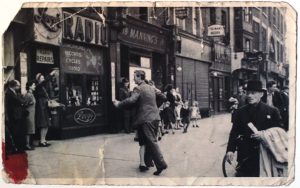 Thursday 29 November:  Alan Dein, oral historian – BBC Radio presenter.  Major radio awards include,  Prix Italia, the Prix Europa, the Sony Radio Academy and US Third Coast.
Alan will be introducing a new compilation of East End Yiddisher Jazz that he has uncovered; reclaiming a lost charismatic music world from undeserved obscurity.
Please register using the following form:
Bookings are acknowledged a week prior to the event.
Talks and tours at the Wiener Library
Organiser: Daphne Berkovi
Talk on Propaganda and Genocide at the Wiener Library – Free
Dr Babara Warnock will lead a talk for our U3A on Propaganda and Genocide. The talk will look at the role of propaganda during the Nazi era, particularly focussing on propaganda targeted at young people. The concept of genocide will also be explored, and the link between propaganda and genocide  examined.
Tuesday 27 November – 2.30pm
Location: Wiener Library, 29 Russell Square, London, WC1B 5DP
FULLY BOOKED – NO MORE PLACES
http://www.wienerlibrary.co.uk
Festive Tea for members
Organiser: Daphne Berkovi
Tuesday 11 December — 3.00–5.00 pm
Location: Alyth, Alyth Gardens, London, NW11 7EN
Live music and entertainment served with afternoon tea including seasonal food (mini-doughnuts, mince pies and vegetable samosas)
Admittance only for members that have registered and pre-paid. Regret no non- members allowed.
Places limited to 100 — so  please register to reserve your place using the following booking form:
Payment in advance: £5 (please see below for details)
Bookings are acknowledged prior to the event.
Payments for activities and events
Some of our activities and events require payment in advance by either BACS or personal cheque and these should be prepared as follows:
BACS: Account Name: HGSU3A; Sort Code 40-20-16 A/c number 82212358. Use your membership number and the name of the activity (e.g., festive tea) as the reference.
Cheques: Make payable to HGSU3A and write your name, address, and what the cheque is for (e.g., festive tea) on the back.  Please post to: Arjun Matthai, 31 Cranbourne Gardens, London NW11 0HS.
Participation in Museum Research
Rachel Hutchinson, a doctoral researcher at the University of Westminster, is conducting research into what makes a visit to a museum or gallery memorable. You can help by completing an online questionnaire, which should take 10–20 minutes to complete.
London & National Events
Members of HGS U3A are also entitled to participate in events organized by the London Region of U3As and in national events of the Third Age Trust. Visit the Events page of the London Region website for details of what's coming up in London.
Shared Learning Projects
Shared learning projects provide U3A members with the opportunity to engage in research or some other enterprise with a range of other organizations. London U3As have recently been involved in projects with the Old Royal Naval College, Greenwich, the London Wetland Centre, King's College, and the Royal Philatelic Society, among others. The London U3A website has more information.