Topical Talks
Organiser: Daphne Berkovi
Topical Talks are normally held every month on a Thursday between 3 pm and 4.30 pm at Alyth. Tea, coffee and biscuits are available at a donation of £1 from 3 pm. The talk begins around 3.20 pm. Non-members are welcome to attend a single talk, but to attend subsequent talks, you must become a member of HGS U3A.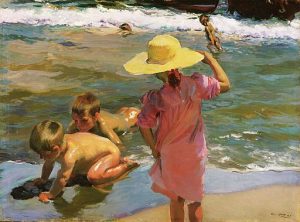 CANCELLED
30 January 2020  3-4:30
Dr Jacqueline Cockburn – Art Historian, linguist and lecturer. Her talk is on Spanish artist Sorolla. Dr Cockburn lectures at the V & A, Christies and is an accredited lecturer for the Arts Society. She specialises in art, literature and the language of Spain. Andrew Graham Dixon endorses her Andalucian art tours. http://www.artandcultureandalucia.com
27 February 2020 – Deborah Moggach, award winning author of 19 novels "The Best Exotic Marigold Hotel" and "Tulip Fever". Deborah will be talking about her latest publication "The Carer" among the titles of the Sunday Times bestsellers.
U3A London Easter Conference – 21, 22 & 23 April
Freedom & Consequences – Freedom & Art are the themes
£50 for all 3 days to include, coffee, teas and lunches from the Atrium café. Hampstead Town Hall, NW3 4QP. Application forms area available by post. Tel: 020 7692 5440
Annual General Meeting 2019
The Annual General Meeting of HGS U3A was held on 18 July 2019. The minutes of the meeting have been approved by the Trustees, and can be downloaded as a PDF file.
London & National Events
Members of HGS U3A are also entitled to participate in events organized by the London Region of U3As and in national events of the Third Age Trust. Visit the Events page of the London Region website for details of what's coming up in London.
Shared Learning Projects
Shared learning projects provide U3A members with the opportunity to engage in research or some other enterprise with a range of other organizations. London U3As have recently been involved in projects with the Old Royal Naval College, Greenwich, the London Wetland Centre, King's College, and the Royal Philatelic Society, among others. The London U3A website has more information.