Topical Talks are Back in Person!
Our Topical Talks now take place in person at the Free Church, North Square NW11 on the third Thursday of each month during our term times. Doors will open at 2.30 to allow time for a chat and a cup of tea or coffee as we did before Covid forced us onto Zoom. (Please note that talks are no longer relayed on Zoom or recorded.)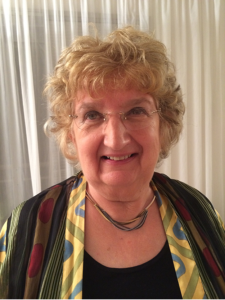 February's talk will be given by author and artist Linda Nissen Samuels, who divides her time between writing and painting. Her first book for adults published by Chiselbury in 2022 is a biography of a war hero, her father, Jack Nissenthall.
The Man Under the Radar is a fascinating account of one man's life using his own writings and those of his daughter. Jack Nissenthall was a radar engineer who volunteered for a suicidal mission on the Dieppe raid. He survived against great odds and went on to live a varied and interesting life. The publishing of the book has been followed by an exhibition at the Battle of Britain bunker featuring Jack Nissenthall and commemorating the 80th anniversary of the Dieppe Raid. In November last year at the AJEX parade, Linda was honoured to lay a wreath, as a tribute to her father, at the Cenotaph. The Man Under the Radar is available from Chiselbury, Waterstones, and Amazon and Kindle.
The talk will take place at 3.00 pm on Thursday 16 February at the Free Church, North Square, NW11 7AA. Doors open at 2.30 pm with refreshments available for £1.
To help us to know approximately how many people to expect, please use the following form to indicate that you plan to come. Members are welcome to bring guests, who are not members of HGS U3A.
If you are not a member of HGS U3A, visit this page to find out how to join.
Recordings of Some Previous Talks
Professor Lynne Cox of Oriel College Oxford gave the Topical Talk on Preparing for Ageing Well in September 2022. Her talk was a terrific review of what we can do now to live a healthier life in old age and fascinating research on possible future medical interventions. Click this link to view a recording which covers the talk (apart from the opening couple of minutes).
You can also watch a recording of the October 2022 Topical Talk, when local author Amanda Weinberg spoke about her historical novel Tears of Monterini based on true events during Mussolini's fascist era.
The Topical Talk in November 2022 was given by Anne-Marie O'Connor, who discussed the fascinating saga behind Klimt's famous painting of the Lady in Gold. Click here to view the recording.
In Conversation
Once a month, Eleanor Levy invites an active member of HGS U3A to share their interests and past life experiences. The sessions are held on Zoom, normally on the first Monday of the month, at 6.00 pm and last for about one hour.
Previous Editions
Catch up on previous editions of In Conversation:
Middlesex University Psychology Lecture Series 2023
By popular demand,  an exciting set of lectures in conjunction with Middlesex University has been planned for Spring 2023. For details, please see our Middlesex University Partnership page.
Annual General Meeting — 28 July 2022
The fifth Annual General Meeting of HGS U3A was held in the Hampstead Garden Suburb Free Church, North Square, NW11 7AA at 10.00 am on Thursday 28 July. You can download the accompanying documentation using the following links:
All resolutions were passed without objection. As a result,
Subscription fees for 2022–23 were set at £35 for individual members and £60 for two people at the same address. A supplementary charge of £2 for payment by cheque was also approved.
Margaret Bendor and David Powers were re-elected as trustees (David will serve for only two years because he has been an elected trustee for four years already).
Judi John was elected as a new trustee.
London Regional Events
For details of events organized by the London Region of u3as, just click the link below:
https://u3asites.org.uk/london-region/events