We have two groups that meet in person — Classical Music Club and Singing for Pleasure — while three other music groups remain active online.
Classical Music Club
Leader: Richard Gold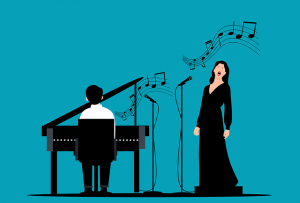 The group meets weekly and alternates between opera and non-operatic material. Normally, works will be played complete, with operas usually split over two sessions.
A chance to enjoy complete works and congenial conversation. Each session lasts up to 2 hours. No musical knowledge required — just open ears!
When: 10.00 am – 12.00 pm (depending on length of work chosen)
Frequency: Weekly
Location: Finchley Cricket Club, East End Road, N3 2TA (free parking)
Great American Songbook c 1920–60
Leader: Stan Clingman
Music from places where people lived amicably, happily, and in harmony; the American Songbook, the singers, and the great Jazz players. Their stories and their songs.
Online using Zoom
When: 3.30–5.00 pm Tuesday
Frequency: Fortnightly, with occasion extra sessions
Open to all
Jazz Appreciation
Leader: Stephen Humphreys
A monthly group that shares its interest in listening to and discussing jazz classics. In addition to meeting monthly on Zoom, Stephen compiles a monthly play list that's mailed to members to listen to at their leisure.
Online using Zoom
When: 3.30–5.00 pm Thursday
Frequency: Last Thursday of each month
Singing for Pleasure
Leader: Betty Mason
Assisted by pianist Maggie Gruenberg
Singing songs across the music genre, accompanied by a pianist. Sight reading although useful, not essential; just the ability to enjoy singing in a group. Lyrics are provided in advance of each session. No auditions are required.
Resuming in person from Monday 27 September
When: 5.00–6.00 pm Monday
Frequency: Weekly
Location: Free Church, North Square, NW11 7AA