Choir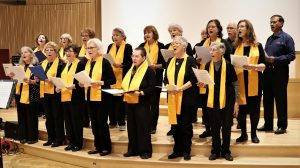 Leader: Francoise Geller, assisted by Jane Jessup on piano
This is a new group for singers who are prepared to go beyond basic singing under the skilful supervision of a professional. Sheet music will be provided.
Start date: Wednesday 13 March 2019, then 27 March and 10 April.
When: Wednesdays, fortnightly, from 5 – 6 pm
Location: Alyth, Alyth Gardens, London NW11 7EN
Number of places: 30
Classical Music Appreciation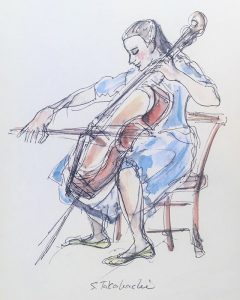 Facilitator: Jack Berkovi (interim)
A new, monthly, group for classical music enthusiasts is planned to start in May 2019. We will meet in members' homes to discuss and listen to music from their favourite composers and also arranging visits.
If you are interested in joining please contact the facilitator via the Contact page.
Modern Jazz Appreciation
Leader: Jack Berkovi
A monthly group that shares its interest in listening to and discussing modern jazz classics. Please bring one of your favourite CDs if you wish.
Dates: 6 February: 6 March: 3 April: 1 May: 5 June: 3 July
When: Wednesday 3.30 – 4.30 pm
Frequency: Monthly
Location: Members' homes, initially NW11
Number of places: 12
Music on the street where they Lived c 1920–60
Leader: Stan Clingman
Music from places where people lived amicably, happily, and in harmony; the American Songbook, the singers, and the great Jazz players. Their stories and their songs.
Start date: 02 October 2018
When: Tuesday 3.15 pm – 4.45 pm
Frequency: Fortnightly
Location: Leader's home, N3 1BJ
Number of places: 14. Currently full.
Music Appreciation at The Royal Academy of Music
Leader: Daphne Berkovi
This group is for music lovers of all music genres.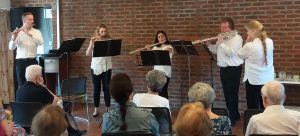 Free Master Classes, tours and concerts (concessions). For further information, visit the Royal Academy of Music website.
Start date: Already active
Frequency: Variable
Charges: Voluntary donation
Location: Marylebone Road, London, NW1 5HT
Maximum size: 20
Advance booking: When events are posted, a booking form will be added to this page.
Singing for Pleasure
Leader: Betty Mason
Assisted by pianist Maggie Gruenberg
Singing songs across the music genre, accompanied by a pianist. Sight reading although useful, not essential; just the ability to enjoy singing in a group. Lyrics are provided in advance of each session. No auditions are required.
Resumes: 14 January 2019
When: Monday 5 pm – 6 pm
Frequency: Fortnightly
Location: Alyth Synagogue Hall, Alyth Gardens, NW11 7EN
Number of places: 30
Theatre Group
Leader: Sharon Cavendish
When: Theatre trips as arranged
Duration: Depends on the show
Location: London theatres
Number of places: No restriction on numbers; each show will have a set number of tickets available on a first come, first served basis.
Theatre visits. We benefit from group rates, but no transport is provided for West End and local shows; please make your own way there, or go in cabs with other members.
Now Booking
HAIR — Relive your youth with this revival of the 1970s musical at the New Wimbledon Theatre. Tickets available for Thursday 28th March at 2.30 pm in either Band A (best seats in the theatre) at £22.50 or Band B (Stalls row O back) at £16. Your choice!
The theatre is a 5 minute walk from South Wimbledon Underground Station on the Northern Line making it nice and easy for most of us to get there.
JOSEPH AND THE AMAZING TECHNICOLOR DREAMCOAT returns to the West End for a strictly limited run. It only opens in July at the London Palladium and I have tickets for Wednesday 3rd July 2019 at 2.30 pm. The special group price is £46 (face value £75) for rows G and H in the Royal Circle.
Book now to make sure you get your seat.
How to book
Send Sharon Cavendish an email (address is in the HGS U3A handbook) with your name, address, and the number of tickets you want (all members in your party must be members of HGS U3A).
Pay the full amount by bank transfer to Sort code: 23-05-80 A/c number 25725018 using your surname as the reference followed by HAIR A, HAIR B, or JOSEPH (depending on your choice of show/seats).
How the Theatre group works
I provisionally book tickets for shows that I think people will be interested in through an agency that specialises in group bookings, or directly with the theatre for local venues.
There is a minimum amount of tickets that I need to sell to get the discounted rate, and that can vary from 6 to 20 depending on the show.
When I ask for the tickets they are allocated to me, on hold, for a set amount of time, and again that varies.
When the time runs out I have to pay for the number of tickets I have sold, so I need to have the money in the account by then.
Some of the deadlines are quite tight, so there is no time to ask who is interested, and wait to get enough interest before asking for payment. That means that on occasions, sadly there is not enough interest in a show, and the booking therefore has to be cancelled. I cannot get tickets just for those that have shown interest as they only sell to groups that meet the minimum number.
If this happens, I will email you to tell you, and ask for your bank details and the money is refunded to your bank account.
If you buy a ticket, and then can't use it, I will try to sell it to another member, but there is no guarantee of this. If I do, I repay the money to your bank account.
I get the tickets at some point after the deadline (varies with venue) and when received I send them out to you in a bright pink envelope.