History of the Musical
Leader: Allan Cinnamon
You are welcome to come and listen to the performances of this group.
We trace the history of the musical and its composers from  inception at the beginning of the 20th century through its increasing sophistication up to the present time.
Music, lyrics, and dialogue are illustrated primarily by live performance with piano accompaniment.
The next presentation will feature songs from a selection of musicals. Apart from hearing most of your favourite melodies presented by our four singers, you'll also learn how these historic show were put together.
Start date: Planning to resume in Spring 2019

When: Third Thursday of each month 10 am – 11.30 am
Location: Alyth, Alyth Gardens, NW11 7EN
Number of places: 50
Music on the Street where they Lived c 1920–60
Leader: Stan Clingman
Music from places where people lived amicably, happily, and in harmony; the American Songbook, the singers, and the great Jazz players. Their stories and their songs.
Start date: 02 October 2018
When: Tuesday 3.15 pm – 4.45 pm
Frequency: Fortnightly
Location: Leader's home, N3 1BJ
Number of places: 14
Music Appreciation at The Royal Academy of Music
Leader: Daphne Berkovi
This group is for music lovers of all music genres.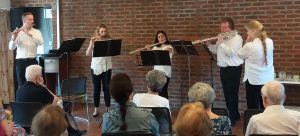 Free Master Classes, tours and concerts (concessions). For further information, visit the Royal Academy of Music website.
Start date: Already active
Frequency: Variable
Charges: Voluntary donation
Location: Marylebone Road, London, NW1 5HT
Maximum size: 20
Advance booking:  Use the form below when an event date is displayed above
Play the Recorder
Facilitator: Daphne Berkovi
This is a new, self-help, group where like-minded members learn to play the recorder.  Bring your own instrument and a starter's music book, as below.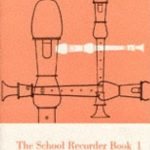 Start date: Autumn term
When: Early evening, day to be decided by the group
Frequency: to be decided
Location: Member's home in NW11
Maximum size: 8
Singing for Pleasure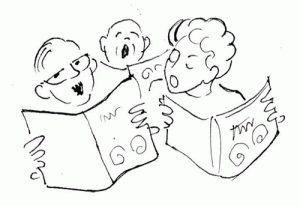 Leader: Betty Mason
Singing songs across the music genre, accompanied by a pianist. Sight reading although useful, not essential; just the ability to enjoy singing in a group. Lyrics are provided in advance of each session.  No auditions are required.
Start date: 8 October 2018
When: Monday 5 pm – 6 pm
Frequency: Fortnightly
Location: Alyth Synagogue Hall, Alyth Gardens, NW11 7EN
Number of places: 30
Theatre Group
Leader: Sharon Cavendish
Start date: Already active
When: Theatre trips as arranged
Duration: Depends on the show
Location: Theatres
Number of places: No restriction on numbers on the email list; each show will have a set number of tickets available on a first come, first served basis.
Theatre visits. We benefit from group rates, but no transport is provided for West End and local shows; please make your own way there, or go in cabs with other members.

More shows coming soon! Keep an eye on this page of the website. You can also subscribe to the Theatre Group mailing list using the email address in your HGS U3A Members' Handbook which also has contact details to book.