Classical Music Appreciation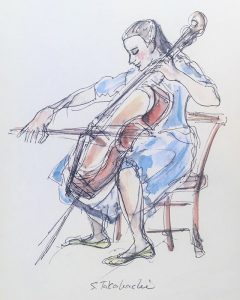 Facilitator: Daphne Berkovi
A monthly group who have a keen interest in classical music.  Includes periodic visits to prestigious venues such as: Royal Academy of Music, Wigmore Hall. 
Currently paused due to concert venues being closed.
Jazz Appreciation
Leader: Stephen Humphreys
A monthly group that shares its interest in listening to and discussing jazz classics. 
Continuing via Zoom from 26 November
When: 3.30–5.00 pm Thursday
Frequency: Third Thursday of each month
Music on the street where they Lived c 1920–60
Leader: Stan Clingman
Music from places where people lived amicably, happily, and in harmony; the American Songbook, the singers, and the great Jazz players. Their stories and their songs.
Resuming online using Zoom from 19 May
When: 3.30–5.00 pm Tuesday
Frequency: Fortnightly, with occasion extra sessions
Open to all
Singing for Pleasure
Leader: Betty Mason
Assisted by pianist Maggie Gruenberg
Singing songs across the music genre, accompanied by a pianist. Sight reading although useful, not essential; just the ability to enjoy singing in a group. Lyrics are provided in advance of each session.  No auditions are required.
Meets online using Zoom
When: 4.30–5.30 pm Monday
Frequency: Fortnightly
Betty has also posted links to music videos on the HGS U3A Facebook Group to keep everyone in good voice.
Theatre Group
Leader: Sharon Cavendish
Theatre visits are currently suspended. In normal times, we benefit from group rates. No transport is provided for West End and local shows—members make their own way there.
When: Theatre trips as arranged
Duration: Depends on the show
Location: London theatres
Number of places: No restriction on numbers; each show will have a set number of tickets available on a first come, first served basis.
How to book
Send Sharon Cavendish an email (address is in the HGS U3A handbook) with your name, address, and the number of tickets you want (all members in your party must be members of HGS U3A).
Pay the full amount by bank transfer to Sort code: 23-05-80 A/c number 25725018 using your surname as the reference followed by LEO.
How the Theatre group works
I provisionally book tickets for shows that I think people will be interested in through an agency that specialises in group bookings, or directly with the theatre for local venues.
There is a minimum amount of tickets that I need to sell to get the discounted rate, and that can vary from 6 to 20 depending on the show.
When I ask for the tickets they are allocated to me, on hold, for a set amount of time, and again that varies.
When the time runs out I have to pay for the number of tickets I have sold, so I need to have the money in the account by then.
Some of the deadlines are quite tight, so there is no time to ask who is interested, and wait to get enough interest before asking for payment. That means that on occasions, sadly there is not enough interest in a show, and the booking therefore has to be cancelled. I cannot get tickets just for those that have shown interest as they only sell to groups that meet the minimum number.
If this happens, I will email you to tell you, and ask for your bank details and the money is refunded to your bank account.
If you buy a ticket, and then can't use it, I will try to sell it to another member, but there is no guarantee of this. If I do, I repay the money to your bank account.

I get the tickets at some point after the deadline (varies with venue) and when received I send them out to you in a bright pink envelope.
World Cinema
Leader: Daphne Berkovi
Visits to specialised London cinemas to view and discuss films from across the globe. Venues including BFI, ICA, Curzon Bloomsbury, Institut Francais, and Phoenix cinema East Finchley