History of the Musical
Leader: Allan Cinnamon
You are welcome to come and listen to the performances of this group.
We trace the history of the musical and its composers from  inception at the beginning of the 20th century through its increasing sophistication up to the present time.
Music, lyrics, and dialogue are illustrated primarily by live performance with piano accompaniment.
The next presentation will feature songs from a selection of musicals. Apart from hearing most of your favourite melodies presented by our four singers, you'll also learn how these historic show were put together.
Start date: Planning to resume in Spring 2019

When: Third Thursday of each month 10 am – 11.30 am
Location: Alyth, Alyth Gardens, NW11 7EN
Number of places: 50
Music on the Street where they Lived c 1920–60
Leader: Stan Clingman
Music from places where people lived amicably, happily, and in harmony; the American Songbook, the singers, and the great Jazz players. Their stories and their songs.
Start date: 02 October 2018
When: Tuesday 3.15 pm – 4.45 pm
Frequency: Fortnightly
Location: Leader's home, N3 1BJ
Number of places: 14. Currently full.
Music Appreciation at The Royal Academy of Music
Leader: Daphne Berkovi
This group is for music lovers of all music genres.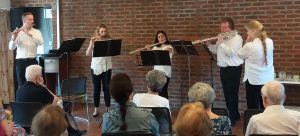 Free Master Classes, tours and concerts (concessions). For further information, visit the Royal Academy of Music website.
Start date: Already active
Frequency: Variable
Charges: Voluntary donation
Location: Marylebone Road, London, NW1 5HT
Maximum size: 20
Advance booking:  When events are posted, a booking form will be added to this page.
Play the Recorder
Facilitator: Daphne Berkovi
This is a new, self-help, group where like-minded members learn to play the recorder.  Bring your own instrument and a starter's music book, as below.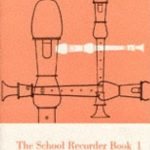 Start date: Autumn term
When: Early evening, day to be decided by the group
Frequency: to be decided
Location: Member's home in NW11
Maximum size: 8
Singing for Pleasure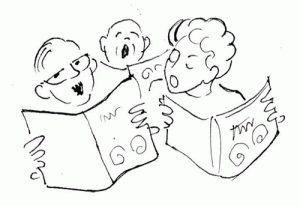 Leader: Betty Mason
Assisted by pianist Maggie Gruenberg and conductor Francoise Geller
Singing songs across the music genre, accompanied by a pianist. Sight reading although useful, not essential; just the ability to enjoy singing in a group. Lyrics are provided in advance of each session.  No auditions are required.
Start date: 8 October 2018
When: Monday 5 pm – 6 pm
Frequency: Fortnightly
Location: Alyth Synagogue Hall, Alyth Gardens, NW11 7EN
Number of places: 30
Theatre Group
Leader: Sharon Cavendish
Start date: Already active
When: Theatre trips as arranged
Duration: Depends on the show
Location: Theatres
Number of places: No restriction on numbers on the email list; each show will have a set number of tickets available on a first come, first served basis.
Theatre visits. We benefit from group rates, but no transport is provided for West End and local shows; please make your own way there, or go in cabs with other members.

Currently taking bookings for these shows:
Rosenbaum's Rescue — Thursday 31 January, 3.00 pm at Park Theatre. Cost:£17.50.
Can the truth ever set you free?
October, 1943. Seven and a half thousand Jews flee Denmark in fishermen's boats, crossing the water to Sweden and to safety from the occupying Nazi regime. To some, a miracle rescue of biblical proportions. To others, the question remains: how did thousands of Jews slip through the grasp of the most powerful war machine ever assembled?
Hanukkah, 2001. At a remote home on the snowy Danish coast, it's time for two old friends to bury the hatchet. Lars and Abraham have not seen eye to eye for decades, but old tensions refuse to thaw as Lars' relentless pursuit of the truth concerning the flight of Danish Jews during WWII challenges Abraham's faith, patience and memories. And when an old secret surfaces and threatens the very foundation of their relationship, fact starts to blur with fiction.
Moving and funny, this sharp and intriguing new play unravels the stories of two childhood friends and one of history's most compelling mysteries.
Home, I'm Darling — Wednesday 6 February, 2.30 pm, Duke of York's Theatre. Top price stalls in rows C, D, E, F, G and H at £40.50 each.
Following a sold-out run at the National Theatre, Laura Wade's 'piercingly funny' (Time Out) new play transfers to the West End for 11 weeks only.
Katherine Parkinson (The IT Crowd, Humans) reprises her acclaimed role as Judy, in Laura Wade's fizzing comedy about one woman's quest to be the perfect 1950's housewife.
How happily married are the happily married? Every couple needs a little fantasy to keep their marriage sparkling. But behind the gingham curtains, things start to unravel, and being a domestic goddess is not as easy as it seems.
How to book
Send Sharon Cavendish an email (address is in the HGS U3A handbook) with your name, address, and the number of tickets you want (all members in your party must be members of HGS U3A).
Pay the full amount by bank transfer to Sort code: 23-05-80 A/c number 25725018 using your surname as the reference followed by ROSENBAUM or DARLING depending on the show you are booking for.