Classical Music Club
Leader: Richard Gold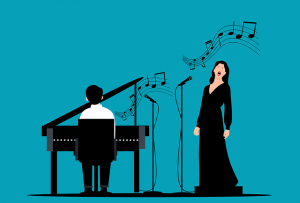 The group meets weekly and alternates between opera and non-operatic material. Normally, works will be played complete, with operas usually split over two sessions.
A chance to enjoy complete works and congenial conversation. Each session lasts up to 2 hours. No musical knowledge required — just open ears!
When: Most Wednesdays during term time, 10.00 am – 12.00 pm (depending on length of work chosen)
Frequency: Weekly from 20 September
Location: New North London Synagogue, Sternberg Centre, 80 East End Road, N3 2SY.  The venue is fully accessible, including for wheelchairs, and there will be ample space also for carers.
Jazz Appreciation
Leader: Stephen Humphreys
A monthly group that shares its interest in listening to and discussing jazz classics. In addition to meeting monthly on Zoom, Stephen compiles a monthly play list that's mailed to members to listen to at their leisure.
Online using Zoom
When: 3.30–5.00 pm Thursday
Frequency: Last Thursday of each month
The Musicals
Leader: Allan Cinnamon
Four singers, Allan Cinnamon, Tanya Forward, Carole Fenton and Jonathan Fenton, together with accompanist Stephen Goldwater, will present songs and talk about the backgrounds of the composers of the great musicals such as George & Ira Gershwin, Rodgers & Hart, Rodgers & Hammerstein, Frank Loesser and Lerner & Loewe.
When: Tuesday 10:30 am – 12:30 pm
Where: Fellowship House, 136a Willifield Way, NW11 6YD
Frequency: Monthly (16 May, 20 June) — no session on 18 April
Singing for Pleasure
Leaders: Betty Mason & Roger Rose
Assisted by pianist Stephen Goldwater
Singing songs across the music genre, accompanied by a pianist. Sight reading although useful, not essential; just the ability to enjoy singing in a group. Lyrics are provided in advance of each session. No auditions are required.
When: 5.00–6.00 pm Monday
Frequency: Weekly
Location: Free Church, North Square, NW11 7AA
Theatre Group
Leader: Sharon Cavendish
When: Theatre trips as arranged
Duration: Depends on the show
Location: London theatres
Number of places: No restriction on numbers; each show will have a set number of tickets available on a first come, first served basis.
Theatre visits. We benefit from group rates, but no transport is provided for West End and local shows; please make your own way there, or go in cabs with other members.
How the Theatre group works
Tickets are provisionally booked for shows that Sharon thinks people will be interested in. To get the discount, a minimum number of tickets need to be sold (amount varies from show to show).
Some of the deadlines are quite tight, so there is no time to wait to get enough interest before asking for payment.
If the minimum number of bookings isn't made, you get your money back.
If you buy a ticket, and then can't use it, Sharon will try to sell it to another member, but there is no guarantee of this.
Tickets are sent out shortly after the deadline for booking.