All our language groups remain active. Get those grey cells working and practice your linguistic skills!
French Conversation
Leader: Diana Brahams, assisted by Judith Steinberg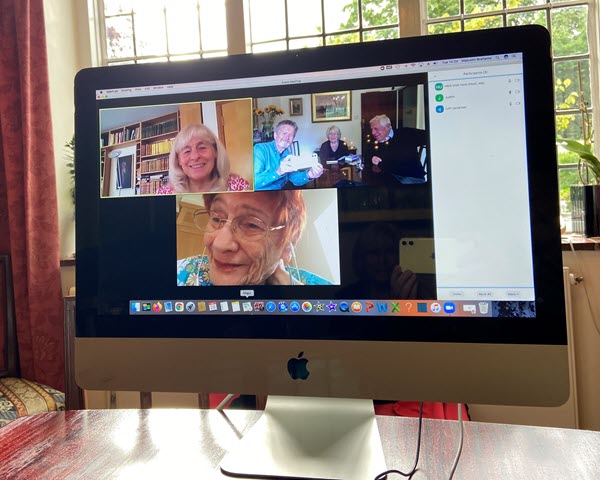 The French Conversation group has evolved into quite a cultural exchange. To avoid running out of topics, the members are each invited to suggest a song or other piece of music, a film, a poem, a book, or a painting.  Their choice is shared with the group on screen and the member explains to the others and then discusses (in French of course) why they made the choice. The group (which usually has the assistance of a fluent French speaker) could probably accommodate one or two further members whose French is of a reasonable standard.
Hybrid sessions in the leader's home (NW11) with others joining online on Zoom
When: Tuesday 2.00 pm – 3.00 pm
Frequency: Fortnightly
French Improvers – Intermediate and Advanced
Leader: Yocheved Freeman
These groups cover conversation, understanding, and writing skills.
Using Zoom
When:

Monday 9.45 am – 10.45  am – Advanced group
Monday 11.00 am – 12.00 pm – Intermediate group
Advanced German Conversation
Leader: Caroline Blausten
Very informal conversation. Anything and everything the group would like to discuss.
At Costa Coffee, Temple Fortune
When: Tuesday 12.00–1.00 pm
Frequency: Weekly
Hebrew (

Ivrit

) Conversation
Leader: Ziva Dwek
Can you make yourself understood in Modern Hebrew (Ivrit)?
Want to improve your conversation and proficiency?
We are an intermediate-level, fun and friendly conversation group (chug) for people who can speak the language and want to progress their competence.
Great majority of discussion in

Ivrit

.
We are not a  learning group – we are a discussion group.
At each meeting, each of us either:
1. Reads and translates an article from the latest issue of Yanshuf (an Israeli newspaper in somewhat easier Ivrit) with its crib sheet – we then discuss that article.
Or
2. Chats in Ivrit on any subject they want (except politics or religion) for a few minutes and we discuss that.
Except when translating we speak only in Ivrit throughout our meetings.
Continuing on Zoom
When: Wednesday 10.00–11.30 am
Frequency: Weekly
Space for 1 or 2 more — please use the form on the contact page if interested in joining (select the option "Application to join group(s)")
Note: there is an annual charge shared among all members (approximately £20 each) for the subscription to Yanshuf
Italian Conversation (Intermediate)
Leader: Daniela Marx
Daniela is a native Italian speaker. Her beginners class has moved beyond the basics, and now focuses on conversation.
Online using Zoom
When: Monday 8.30 – 9.15 am
Frequency: Weekly
Learn Latin
Leader: Daniela Marx
Set book: Cambridge Latin Course Book 1 – 4th Edition
Online using Zoom
When: Monday 9.15 – 10.00 am
Frequency: Weekly
Spanish Conversation
Leader: Marta Duenas
A conversation group for people with a workable knowledge of Spanish. Please contact the group leader for an assessment of your level before deciding whether to join.
Online using Zoom
When: Wednesday 5.00–6.00 pm
Frequency: Fortnightly
Yiddish Conversation
Leader: Cyril Ruttenberg
A fortnightly meeting for those who can speak and/or understand Yiddish.
Online using Zoom
When: Monday 2.00–3.30 pm
Frequency: Fortnightly