Although some of our fun, games, and puzzles groups have been suspended during the pandemic, there's still plenty to keep you engaged during these difficult times. How about Quiz Night, Comedy Club, or pitting your brains against cryptic crosswords?
Bridge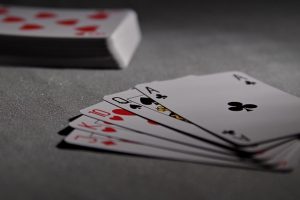 As Bridge is extremely popular, we normally have offerings aimed at different levels of players. However, due to the pandemic, only one group is currently active. We hope to revive the other Bridge groups as soon as government regulations regarding in-person meetings allow.
Bridge 5: Friendly matches using Modern Acol bidding — with advice on offer
Leader: Elaine Phillips
Relaxed bridge matches for experienced acol players who are happy to play weak no trump, transfers, weak 2s, and other modern bids, plus would like to improve their bidding and play. There are 2 tables each session and all the players in the group are using the same system.
Elaine sets the hands in advance, trying to include some interesting points for discussion, and hopefully coming up with a helpful suggestion if any players are struggling — be it a better bid, new convention or improved playing technique.
Continuing through email and BridgeBase Online
Cryptic Crosswords
Leader: Diana Wolfin, assisted by Chris Salter
Enjoy cryptic crosswords?
Would you like more clues to clues?
Welcome a new venture?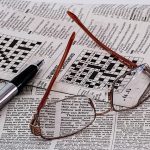 We meet weekly to have a go at solving a cryptic crossword from newspapers such as the Guardian, Daily Telegraph or the Times. No-one gets all the answers and we give each other time to think. It's great to learn more ways of tackling complex clues.
If you'd like to unravel some clues – try these*
Put cords in rows for this puzzle (anagram)
Cranky chat group (synonym + synonym)
We don't quite cross swords in this group (nearly embedded)
Always affable. Never a ……………… Join us! (completion of a phrase)
Learn how to understand and complete cryptic crosswords. Examples will be provided with solutions — *the answer to all of these cryptic clues is crossword!
If that's given you an appetite for solving cryptic crosswords, download the HGS U3A Christmas 2020 cryptic crossword provided by Chris Salter. The solutions to the crossword were included in the February 2021 Newsletter sent to all members.
Online using Zoom
When: Thursday 3.00 pm – 4.30 pm
Frequency: Weekly
Cryptic Crosswords for Beginners
Leader: Chris Salter
Chris, who co-leads the more advanced group on Thursdays, is starting a new group for beginners.
Start date: 14 April
Online using Zoom
When: Wednesday 2.00–3.00 pm
Frequency: Weekly
Quiz Night
Leader: Jack Berkovi
If you enjoy quizzes then why not join like-minded members for an informal, enjoyable evening of answering questions on general knowledge?
Online using Zoom
When: Monday 8.00–9.00 pm
Frequency: Fortnightly
Groups Currently Inactive
The following groups have been suspended during the pandemic. It's hoped to revive them when conditions allow.
Scrabble Sunday
Leader: Eleanor Levy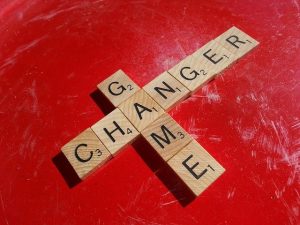 Are you a whizz at finding words that contain Q or Z (10 points each—even better if you can place them on a bonus square)? Or maybe you just enjoy good company while playing a game of Scrabble. Join our Scrabble Sunday for a couple of hours on alternate Sunday afternoons. Either two or four players per board, with a rotation of scorers. Please bring your own Scrabble set.
Who will be the first to get "oxyphenbutazone," the highest-scoring legal Scrabble word (1,778 points after bonuses)?