Book Group — Penguin Modern Classics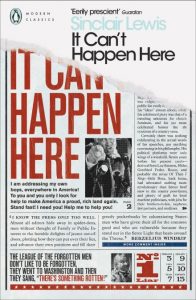 Leader: Daphne Berkovi
"A classic is a book which has never exhausted all it has to say to its readers" from "Why Read the Classics?" by Italo Calvino.
Now moving into our second year, our group will be reading books from a long list of  Penguin Modern Classics.  Introducing readers to a diverse range of 20th century writers, who broke the rules, created new forms of expression and made their voices heard against the odds.
Next meeting: 21 December
"It Can't Happen Here" by Sinclair Lewis.
A Vain, outlandish, anti-immigrant, fear mongering demagogue runs for President of the United States – and wins.  Sinclair Lewis's chilling 1935 bestseller is the story of Buzz Windrip. Professional Common man, who promises angry voters that he will make America proud and prosperous once more, but takes the country down a darker path. As the new regime slides into authoritarianism, newspaper editor Doremus Jessop can't believe it will last – but is he right?
When: Friday 10.15 am – 11.30 am
Location: Leader's home, NW11 6RJ
Frequency: Monthly
Number of places: 12
Evening Book Group
Leader: Tina Stanton
"No two persons ever read the same book." – Edmond Wilson
What could be more interesting than discussing books with a group of lively and engaging people? The HGS U3A Evening book group is relaunching.  It will feature a wide array of reading chosen by the participants.
Next meetings: 6 September, 11 October
When: Thursday 8 pm – 9.15 pm
Location: Members' homes
Frequency: Monthly
Number of places: 10 -15
September title: The Painted Veil by Somerset Maugham.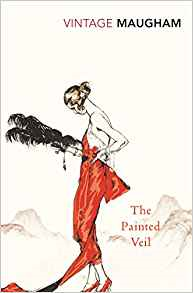 The Painted Veil is a beautifully written story which takes place in Hong Kong, with the beautiful Kitty reluctantly agreeing to marry the unexciting Walter Fane, a bacteriologist, though in love with Charlie, a married ladies-man.
Kitty continues an adulterous affair with Charlie and when her husband finds out, he tells Kitty he will agree to divorce her on the condition that Charlie will promise to marry her — knowing full well, as it turns out, that Charlie will immediately back off, leaving Kitty high and dry.
Walter then makes Kitty accompany him to a new post in a place riddled with hundreds of people dying from cholera. At first, she is appalled at the conditions, but gradually her character becomes caring, after she decides to work voluntarily in a convent run by French nuns.
Creative Writing Group
Leader: Neil Behrmann
A relaxed meeting for writers and first-timers wishing to put words down on paper. Fiction and non-fiction. Neil, a working journalist and author, will give initial and ongoing talks about the process with contributions from the group through Q & A. The group can write about life story, anecdotes 500 -2000 words long initially. If members wish they an read their pieces to the group. members can edit pieces voluntarily e.g. member A writes the piece and member B edits.  Criticism will be offered.  May link up with a photographer at times and go for walks and write about experiences.
Start date:  24 September  2018
When:  Monday 2 – 3.30 pm
Location: Community Room, Golders Green Library,  156 Golders Green Road, London NW11 8HE (Access via Library Card and PIN)
Frequency: Fortnightly
Number of places: 12
Booking: Ideal at start of course but newcomers are welcome
Play-Reading Group
Leader: Daphne Berkovi
We are a  group who love the theatre and enjoy reading parts. No experience is needed, just enjoyment and fun in a friendly atmosphere. Choosing from a wide selection of play sets available from Barnet library.
Play: "A Delicate Balance" by Edward Albee
 Date:  13 December 2018
When: Thursday 2.45 pm – 5 pm
Location: Members' homes by rotation
Frequency: Monthly
Number of places: 10
Currently full – waiting list
Poetry Reading for Pleasure
Leader: Elizabeth Inman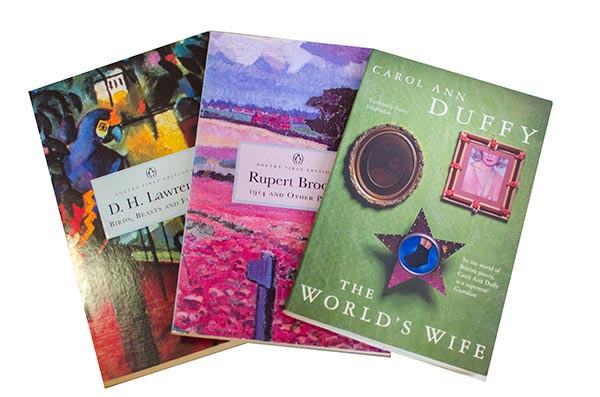 Reading, sharing, and discussion of poems with agreed themes.
Start date:  21 August 2018
When: Tuesday 2.30 pm – 4 pm
Location: Leader's home, NW11 6NE
Frequency: Fortnightly
Number of places: 10
Shakespeare Group
Leader: Richard Abramson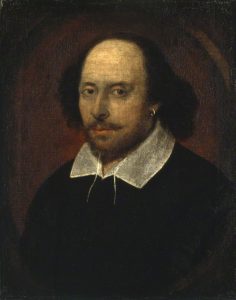 Shakespeare plays: study and discussion of texts.
The way we study is to read a small section of the play text at a time, and, depending on its complexity and interest, discuss and analyse each part.  We keep the discussion light, while trying to appreciate the joy of the text.  Some of us know Shakespeare well, while for others a new vista is opened up.  New members are welcome at any time, and need bring only a willingness to listen and to share thoughts.  Ideally (though not necessarily) members should also bring their own copy of the play being read.
Richard has given several talks on Shakespeare, and recently completed an MA in Shakespeare Studies at Royal Holloway.
Start date: We restart on 18 September, reading As You Like It
When: Tuesday 10 am – 11.30 am, followed by an (optional) coffee time
Location: Leader's home, NW2 2ED
Frequency: Weekly
Number of places: 12