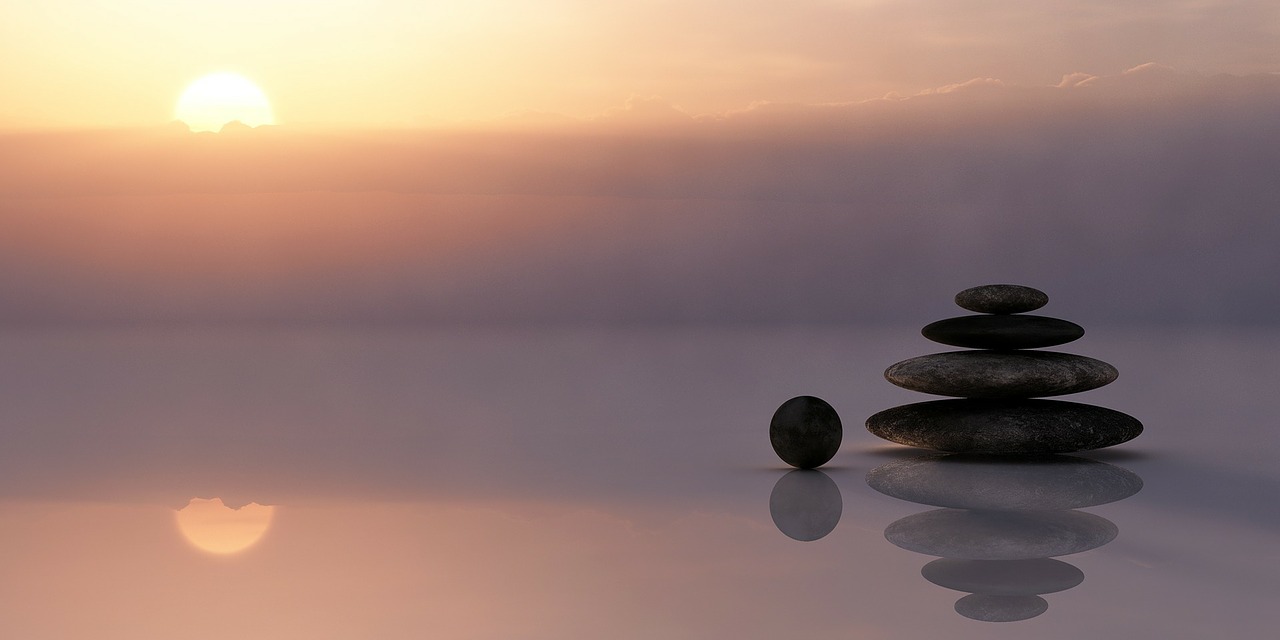 All physical activities are designed with the age profile of HGS U3A members in mind, so you're not expected to be an Olympic athlete, but you must be sufficiently fit to participate.
If in doubt, please contact the Group Leader to discuss whether the group is suitable for you. In some cases, you will be asked to fill in a confidential form disclosing any health issues.
Cycling
Leaders: Terry Snowman & Eric Wilton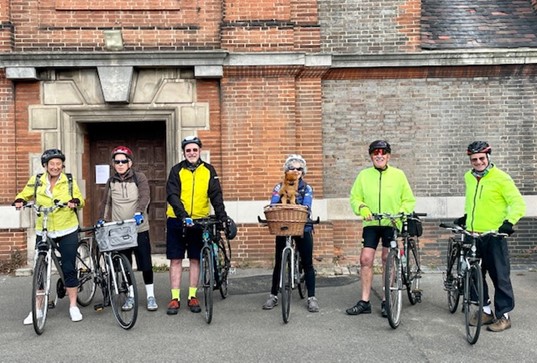 Our newly formed cycling group is up-and-riding. The group is jointly led by Terry Snowman, an experienced ride leader and route planner, and Eric Wilton. We aim to cycle 15 to 20 miles at a very comfortable pace and to include a coffee stop on our rides. Given our location, some cycling on busy roads is unavoidable but we will always look to find quieter routes, at least in part. All participants must have roadworthy bicycles, of any type, wear a helmet and bring water. As this is the UK, into every ride some rain may fall, so it will always be a good idea to bring rain gear! Rides will only be postponed in the case of extreme weather. Do join us, for any or all of our rides. You'll be most welcome. For more information contact Eric via ericwilton1@gmail.com or on 07971-019542.
When: Tuesday 9.30 am – 1.00 pm
Where: Meet outside St Judes Church, South Square
Lawn Bowls
Leader: Phyllis Ellis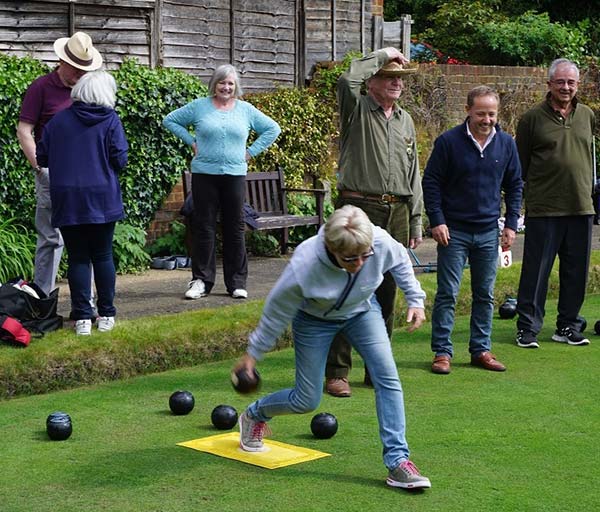 The lawn bowls group operates only during the summer. It is an opportunity to try a new sport which is good gentle exercise in the fresh air. An ideal sport for those who think their days on the tennis court or cricket pitch are nearly over. The main ability needed is to be able to bend & hold a bowl which are quite heavy. Full instruction will be given and the sessions will be competitive and fun.
All equipment is provided plus tea & biscuits. The club has a carpark.
Currently paused
When: Monday 2.30–4.30 pm
Frequency: Weekly
Location: Temple Fortune Club, 122 Bridge Lane, NW11 9JS
Charge: £5 per session (this is the club's visitor fee)
Mindfulness & Wellbeing
Leader: Mika Hadar-Borthwick
Each session is structured as a mini-course, focusing on specific subjects. The sessions in October will delve into the nature of the mind, emotions and thoughts, the senses, and the connection between mind and body.
In December, we'll explore topics related to poise, responses to stimuli, and the presence of mind and body.
All sessions on Zoom
When: Tuesday 12.00–1.00 pm
Dates: 10, 17 & 24 October, 5, 12, & 19 December (no sessions in November)
Please contact the Joint Groups Organisers for the Zoom link
Table Tennis — Social
Contact: Michelle Royston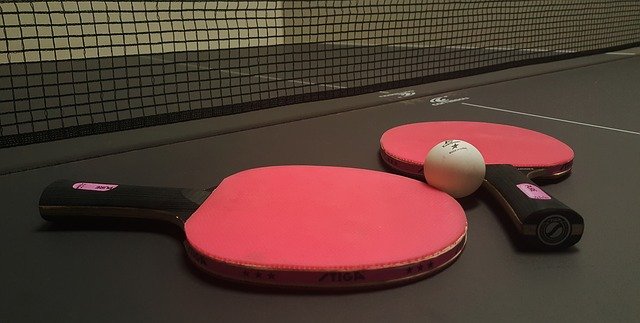 Come along and learn or play as you wish. Table tennis can improve mental health, reducing the risk of depression, anxiety and developing self-esteem as well as developing mental agility, motor skills, balance and coordination.
As little as 10 minutes of regular moderate exercise can bring great benefits.
Continuing under conditions stipulated by Table Tennis England
When: Tuesday 1.00–2.00 pm & 2.00–4.00 pm
Where: Free Church Hall, Northway, NW11 6PB
Frequency: Weekly
Number of places: maximum of 16 people per session
Charges: £10.00 per term
Tai Chi on Wednesday
Leader: Shahin Daneshi
This class is a  combination of Tai Chi, Qi Gong, and Raja yoga meditation. This is a gentle mindful practice, that promotes peace and wellbeing. Each session will cover Tai chi and Qi Gong practice and their philosophy in addition to Raja yoga. Raja yoga  focuses on pratyahara (control of the five senses), dharna (concentration), and dhyana (meditation).
The benefits include improving flexibility and coordination, strength, balance and a general feeling of calm and ease. You can bring a yoga mat or sit on a chair for the meditation part.
From September 2023, the class will alternate each week between in-person and online sessions.
When: Wednesday 2.30–3.30 pm
Where: Free Church Hall, Northway, NW11 6PB
Autumn term dates: 13 & 27 Sept, 11 Oct, 1, 15 & 29 Nov, 13 Dec
Frequency: Weekly (no session on 25 October)
Tai Chi on Zoom
Leader: Shahin Daneshi
On alternate weeks, Shahin conducts the Tai Chi class on Zoom. This enables us to provide a class for more people than can be accommodated in the Free Church Hall, as well as for members who are unable to attend the in-person sessions. Please contact the groups organisers for the Zoom link.
When: Wednesday 2.30–3.30 pm
Autum term dates: 20 Sept, 4 & 18 Oct, 8 & 22 Nov, 6 Dec
Tai Chi on Thursday
Leader: Shizue Takahashi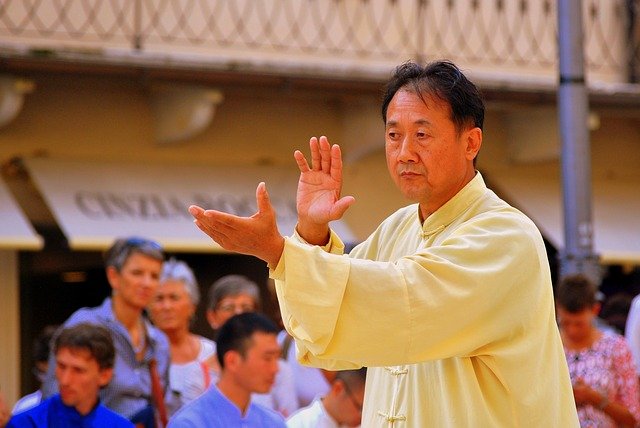 Tai Chi releases tension in the body and improves balance, breathing, circulation, and concentration.
When: Thursday 2.30–3.30 pm
Where: Free Church Hall, Northway, NW11 6PB
Frequency: Fortnightly
Number of places: 16
Walking Groups
Walking to keep fit and enjoy pleasant company. See Outdoor Activities.
Yoga
Leader: Sarah Dewdney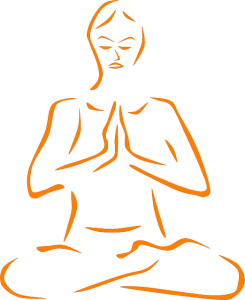 Sarah has been practising yoga for over 15 years and became a teacher to share the mental and physical benefits with others. The class will be a gentle, slow-moving Hatha based one. Starting with warm-up movements, Yin yoga poses, grounding, pranayama (breath-work), sun salutation, standing and seated asana. Finishing with floor based sequence culminating in savasana, to absorb the physical practice.
Modifications can be made in any pose, yoga is a personal practice in which you work with what you have. It is about making a connection with your breath, body and mind.
All attendees should bring a yoga mat and blocks, if you require them, and dress in light, comfortable clothing.
When: Thursday 9.45–10.45 am
Where: Finchley Youth Theatre, 142 High Road, East Finchley, N2 9ED (near East Finchley tube; parking available in side roads)
Frequency: Weekly
Gentle Yoga
Leader: Michal Benaim
Our teacher Michal says: This class is for those who are seeking gentler work that will listen to your body and your needs. My aim is to make you feel better after the class than when you first walked in. Yoga is a non-judgmental practice that invites everyone at all levels or stages in life to practice. 
I have been practising yoga for over 20 years and in the last couple of years have qualified as a Hatha Yoga instructor.
The class will be held at the Free Church Hall, Northway, London NW11 6PB on Wednesdays. Please contact the u3a group organisers regarding availability.