The Days Out group which was newly formed in the summer has got off to a very successful start.
Ely, Henry Moore, and Secret Map Makers
On 31 August we travelled to Ely by train from Kings Cross and visited the Cathedral's interesting Stained Glass Museum. We also visited Oliver Cromwell's House nearby and sat outside for lunch, an extra bonus as it was a beautiful summer day. There was also time to look around Ely's Town Centre before heading home.
Our first visit in September was to the Henry Moore studios in Hertfordshire on a very hot day. The tour was very interesting around his studios; and the display in the 'aisled barn' of his little-known tapestries was amazing as he was an amazing artist as well as a sculptor. The tapestries are huge and priceless. Henry Moore commissioned them from West Dean College in Sussex.  The weavers worked with his original drawings and photographs to dye the wool accurately, to achieve the precise colours and effects of his different drawing media. The work is amazing and so fine, and if you stand back, they look like paintings.
Our second outing in September was to Hughenden Manor and again we were so lucky with the weather.  The grounds and garden were wonderful, and the guided talks were very interesting, especially of the secret work that took place there. Hughenden Manor was the base for a secret map-making operation during WWII, code-named 'Hillside' and is believed to have been at the very top of Hitler's hit list. We saw the actual room that the map makers were confined to for months on end. They were sworn to secrecy of the work they did there. Some were so loyal and patriotic that they never told anyone of the type of work they did, not even their spouses, and some even took the secret to their graves.
Masons and Rotherhithe
In November, we kept closer to home, with visits to the Grand Masonic Lodge in Holborn and the Freemasons Hall, and a separate visit to Rotherhithe. Our guide in Holborn was wonderfully entertaining and knowledgeable; and after the tour we enjoyed a delicious lunch at a local Italian restaurant.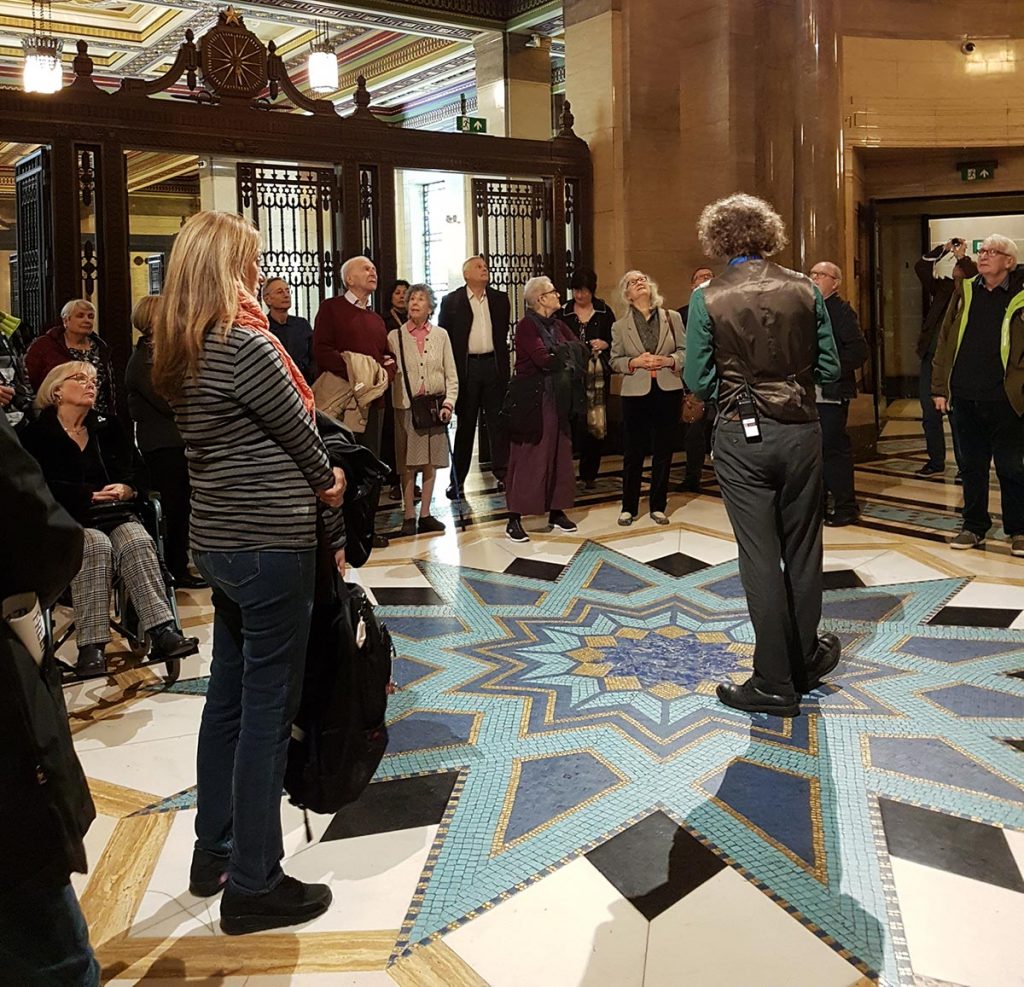 Our visit to Rotherhithe was led by Mary Fraser, who is well acquainted with the area. She led us around old Rotherhithe Village pointing out all the places of interest. At the Brunel Museum an actor who had appeared in Four Weddings and a Funeral gave a talk about the Brunels, father and son.
We decided to go to the Mayflower pub for lunch which was very enjoyable. After lunch some of the group headed home, while the rest of us went on to the Scandinavian Christmas Market which is held every year around the Norwegian and Finnish churches.
More to Come
Our last outing of the year, which is fully booked, is to Strawberry Hill House in Twickenham, the home of Horace Walpole, to see The Treasures of Strawberry Hill, a rare exhibition of his extensive collection.
The Days Out committee wish you all Season's Greetings and a Happy New Year. We hope we will see you on our outings planned for 2019.
Report by Barbara Bliss on behalf of the Days Out committee