HGS U3A Open Day was held on the afternoon of 5 September at Alyth Synagogue, Alyth Gardens, and got off to a resounding start. The main hall was full, and there were many prospective new members as well as those who had already joined. Some people brought their iPhones, iPads, and laptops to use whilst the use of the website was illustrated.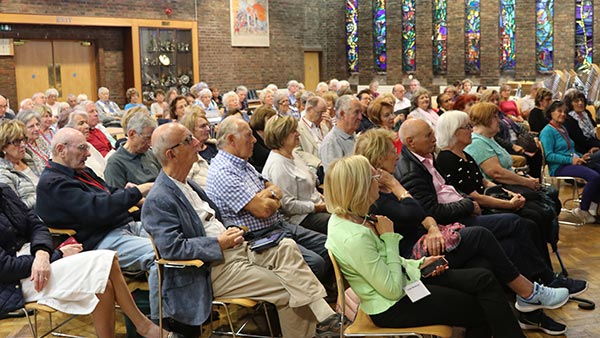 The first part of the afternoon was conducted by David Powers, our brilliant webmaster, who explained to the audience how to use and navigate our website. There have been many responses from members who have commended the excellent website for its appearance, navigation, and modernity; this is thanks to our webmaster for his splendid work.
The rest of the afternoon was spent with the chair, Jack Berkovi, explaining about the new courses that are evolving, some of which were so recently added that there had not been time to include them in the new Handbook. At the end of the session new members enrolled, and members collected their Handbooks – the first edition for HGS U3A.
The new U3A is striving to meet the needs of the local community and making many alliances with locally sourced venues and organisations. We are using the Free Church and its hall, Fellowship House, the library in Golders Green, Alyth Synagogue in Temple Fortune, and the Michael Sobell Centre in Golders Green.
The website is constantly being updated and new courses are evolving all the time. Most groups have spaces available; others are being newly formed. There is a very wide variety of groups ranging from literature, languages, to art, history and outdoor activities
So, please check out our website regularly.
Report by Daphne Berkovi, photos by Myke Jacobs