On a bright Sunday morning in April our U3A members and guests were given a very special treat of attending a Coffee Concert given by the London Flute Quintet in Fellowship House.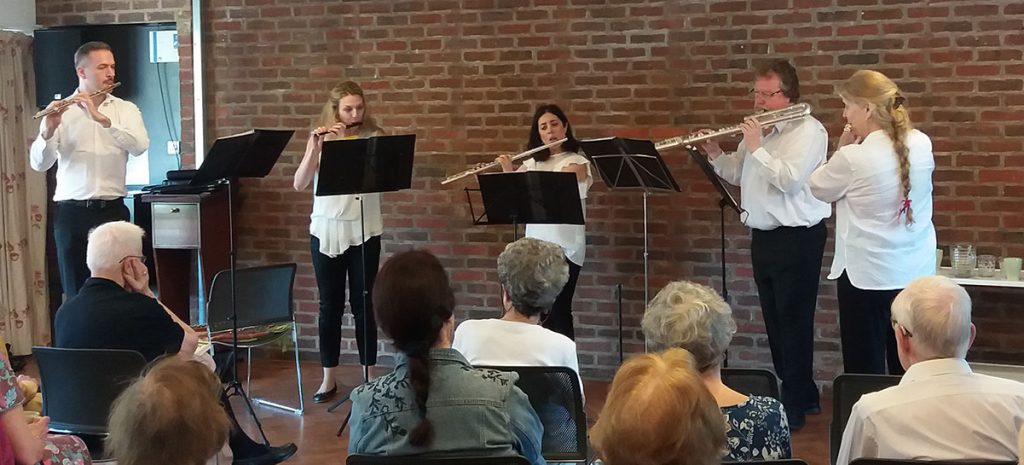 The London Flute Quintet is the brainchild of Dan Dixon, their bass flute player, and Liz Cutts their alto flute player. The group's formation in 2015 was inspired by recent exciting adaptations of symphonic repertoire for members of the flute family by members of the German group, Quintessenz. The LFQ has performed extensively throughout south west France and in England. All the members of the group are conservatory trained ex professionals, and dedicated highly experienced professional level amateurs.
So our U3A felt very honoured to be host them for our first Coffee Concert. The audience were entertained with an outstanding first-class performance of music; with a repertoire ranging from Bach to Bernstein. Some members of the audience could be seen moving to the rhythm of the music, as the performances could only be described as scintillating. A rapturous round of applause after each performed piece was testament to the appreciation of the musicians and their musicianship. We do hope that they will consider visiting us again.
Report by Daphne Berkovi; photo by Malcolm Brahams