Our U3A felt very privileged to commence our new partnership with Middlesex University conducted by Professor Antonia Bifulco, Head of the Department of Psychology at the University and Co-director of the Centre of Abuse and Trauma Studies (CATS).
Lisa Woolfson, Emeritus Professor who is a new member of our U3A and is our University Liaision Coordinator, facilitating the partnership, welcomed our members for the first taster session and introduced Professor Bifulco.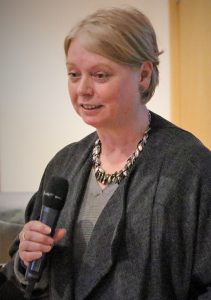 Antonia's talk was entitled Family history and the search for identity. This was based on Professor Bifulco's publication Identity, Attachment and Resilience: Exploring Three Generations of a Polish Family.
Antonia explained that the talk was about family history and ideas about the psychological themes that it involved. Firstly, Antonia described that it was quantitive — personal, illustrative. She clarified that having a family narrative gave its members a sense of security and its storytelling gave a sense of identity. Asking our U3A members at this point to discuss why family history was important to them, one member responded that he had made an album and presentation to pass on to his grandchildren.
Antonia then described that she had set out to research her family history and looked at three generations on her father's side of the family, which were Polish as her father was Polish. She also included some of her mother's family because her maternal grandmother had travelled to Poland in the 1930s. The themes of the research were:
Attachment
Resilience
Emotional geography
Secrecy and camouflage
Loss and restoration
Emotional history: Antonia clarified was how it affects us personally; emotional geography was the attachment to certain countries, people, location and places. She also showed us various slides of documentation that she had gathered during her research, including the historical background of Poland. Her personal account of her father's first wife Myszka (Maria) who worked for the Red Cross in Warsaw and perished in Auschwitz was very moving. This was a piece of history that was not disclosed to Antonia; it had been kept a secret in the family. Yet letters were found that Myszka wrote to Antonia's father whilst he was in France.
Antonia concluded that the messages about family history ultimately give us a sense of identity, and empathy with the previous generations.
Our members thoroughly enjoyed the talk and were enthusiastic to start the exciting programme in April. We are extremely appreciative of this new collaboration; of having the opportunity to enjoy first class academic lectures and the opportunity for our members to reciprocate by helping students with skills that they may need.
Lisa gave a round of thanks to Professor Bifulco and to our members and explained that the full programme will be commencing in April. The feedback from our members was very positive and they were enthusiastic to start the forthcoming programme. We are appreciative of this new collaboration and the experience and expertise of Lisa in assisting us. This is an opportunity to enjoy first class academic lectures and for our members to reciprocate by helping students with skills that they may need.
Full details of the series of pyschology lectures at the Hendon Campus of Middlesex University can be found on the Middlesex Partnership page.
Report by Daphne Berkovi